HR Conclave 2022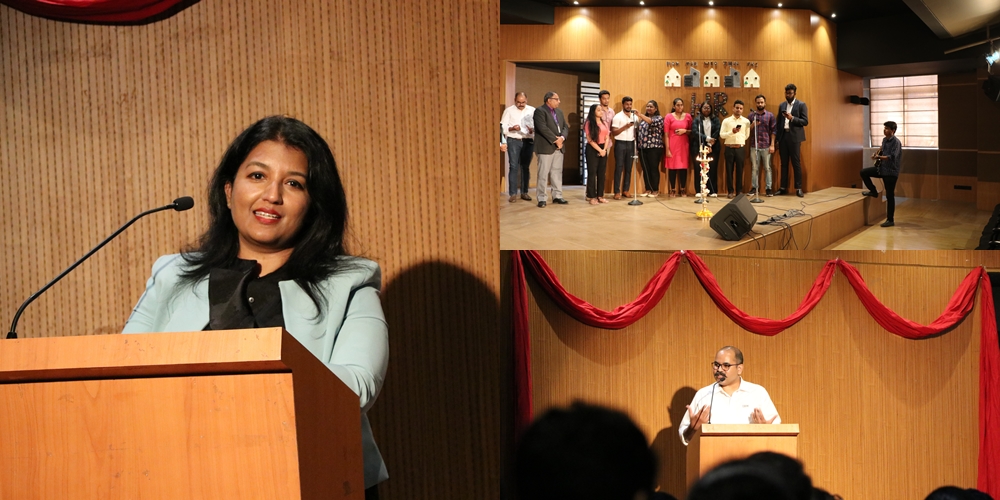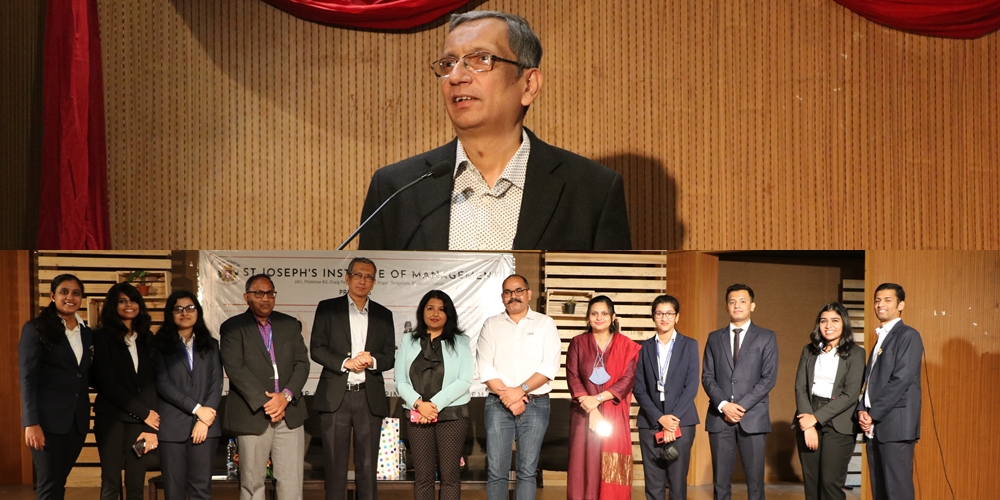 "We sense that 'normal' isn't coming back, that we are being born into a new normal: a new kind of society, a new relationship to the earth, a new experience of being human." 
– Charles Eisenstein

SJIM's HR Club successfully concluded its annual flagship HR Conclave, held on March 9th, 2022 under the convenorship of Dr. Shehla Malik. The event began with a welcome note to all the speakers, faculty, staff, and students by our Dean Dr. A.R. Rajagopalan. This was followed by lamp lighting and a prayer song by the choir team. The theme of the Conclave was on addressing a very relevant area of HR - The Changing HR Landscape during "The New Normal".

The Keynote Address was delivered by Mr. M.A. Mukund, an ex-scientific researcher who evolved as HR professional. He is an accredited ICF-PCC coach. He shared his thoughts on the transition of HR in this new normal era stating, "HR is not what it used to be and probably will never be the same again".

This was followed by thought-provoking sessions by Mr. M.N. Satish Kumar, a Strategic HR Business partner- Engineering and Pacific HR Director for Moog Inc. USA, Mr. Hari Bhat, Chief of Staff to the Head of HR at IBM and Ms. Sarika Sajeev Pillai, Global Recruitment Compliance Manager at Genpact.

They shared insights on the following sub-themes: the hidden roles and responsibilities of HR, the relevance of data-driven HR and work-family integration during the new normal. They also shared thoughts about the pandemic, its history, major widespread effect, and its consequences on the businesses.

The event concluded with vote of thanks, delivered by student coordinator of HR Club who extended gratitude to all the stakeholders of this event.
---
Team Building Event by the HR Club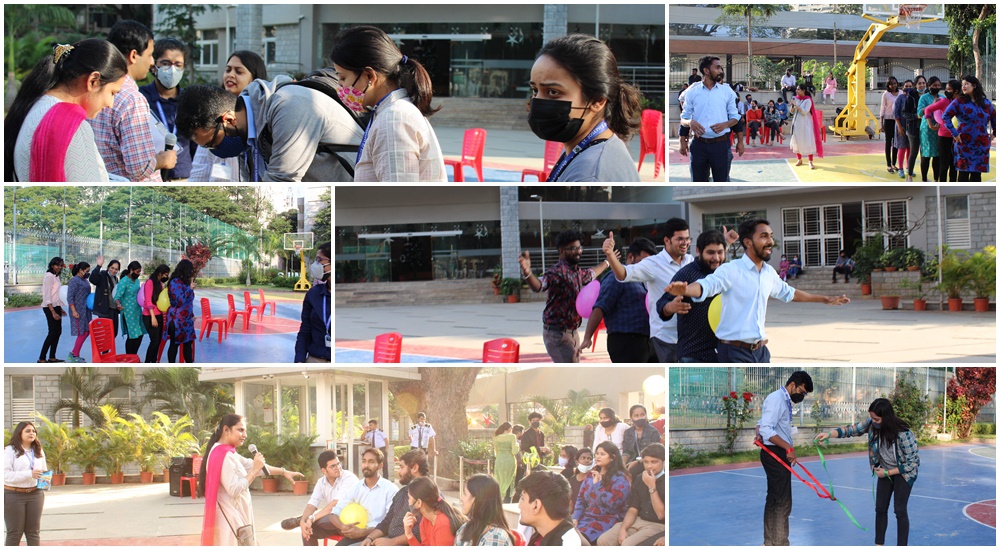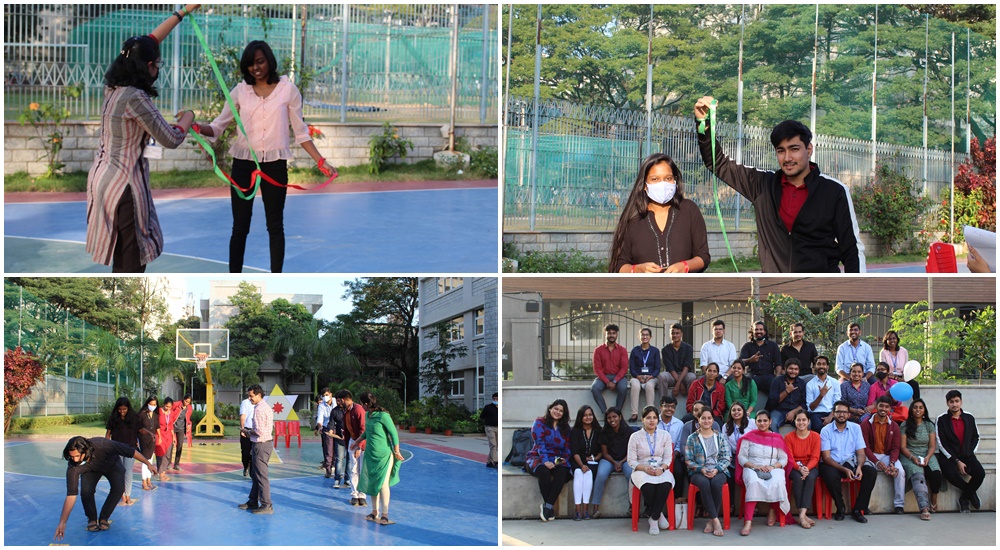 "Great things in business are never done by one person. They're done by a team of people."
– Steve Jobs, Co-Founder of Apple

To practically teach the above 'work mantra' to the management students, the HR Club at SJIM made an initiative to conduct a bunch of fun-filled team building activities for the PGDM students on Monday, December 20, 2021.

The purpose was to engage students through a series of fun-filled activities such as Balloon race, Magic knot and Lava walk. These activities focused on honing team building skills such as goal setting, communication, coordination, collaboration, problem-solving and social relations among students. The participants really enjoyed the fun-based design of learning about teamwork. The audience was equally high- spirited and motivated the participants throughout the event.
---
HR Club activity on Professional Experience Sharing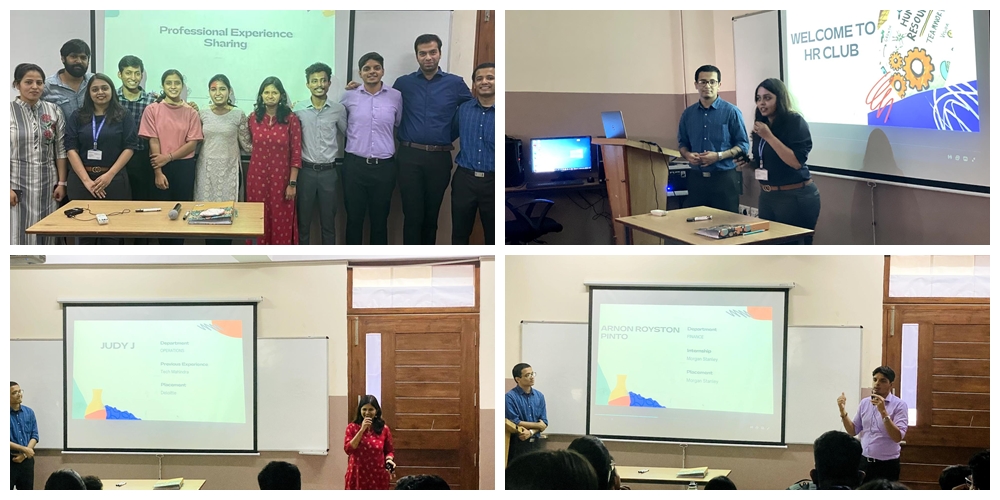 The Human Resources (HR) Club at SJIM focuses on accelerating the application of knowledge gained in classrooms. Recently, the HR Club conducted a "professional experience sharing" activity for PGDM Year I students who will be entering the corporate world soon for summer internship. The event was organized by student coordinators from Year I (Ms. Shreya J, Ms. Annapurna L, Mr. Rohit Philip Alexander, Ms. Sonal) and Year II (Ms. Anya Mary Samson) of PGDM program with the guidance of the faculty coordinator, Dr. Shehla Malik.

The speakers were chosen from PGDM Year II for all four domains – Marketing, Finance, Human Resources, and Operations. Mr. Praveen Devarakonda, Mr. Hrishik Powani, Mr. Arnon Royston Pinto (Finance); Mr. Elton Joy D'souza (Marketing); MS. Judy J, Mr. Nikhil J (Operations); Ms. Aleena Johnson, Ms. Kallavi Srikanth Harshitha (Human Resources) shared their internship experience.

They also shared key insights gained while working in corporate during their industry internship program (IIP) in 2021. Further, they highlighted many useful tips for resume building and interview preparation with juniors. The speakers thoughtfully answered various queries raised by the juniors who were very interactive and had a great learning experience.
---
HR Conclave


The SJIM HR conclave, an annual event to keep students abreast with the latest trends in HR, is held every year. This year's conclave revolved around the theme "HR 4.O" which is closely linked to the so-called industry 4.O, or to the fourth major industrial revolution.The speakers for this session were Mr. Paul Jacob – HR Director, Pramati Technologies, Mr.Nadeem Pasha – TA Head, Inspirage, Ms.Manu Srinivasan – Founder HR Marga; Mr. Sanjay Mitra – GM HR, ITC.
---
Human Resources Club at SJIM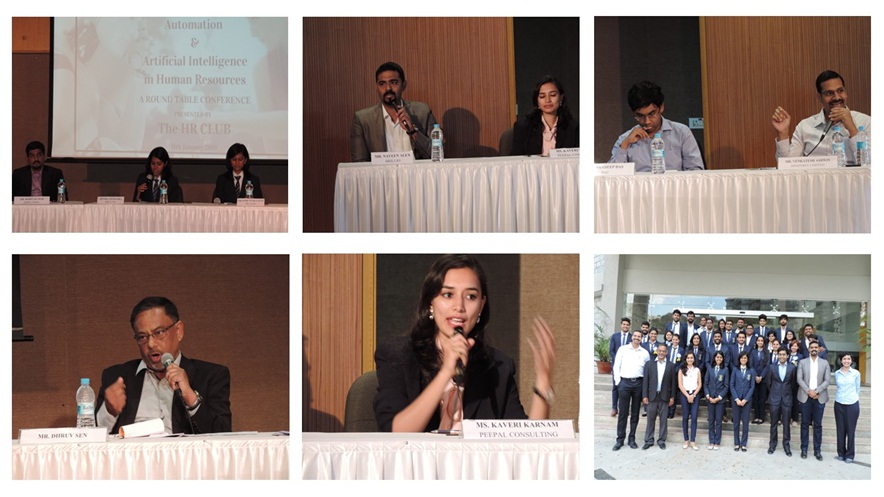 The Human Resources Club at SJIM revolves around imparting knowledge on current HR trends, news and practices, and equipping students with skills that compliment concepts taught in classrooms. This is done through various activities such as debates, quizzes, role plays, guest lectures and the like.

The HR Club also gives members the opportunity to suggest and organise events and display their genius in handling difficult scenarios through various initiatives.

Among the Club's initial set of events, was an HR-round table conference, a first of its kind, where esteemed delegates from varies industries were invited to display their opinions on talent retention in organisations in a world of high attrition.

The club is backed by the support of accomplished faculty members at SJIM, who provide necessary direction and guidance.