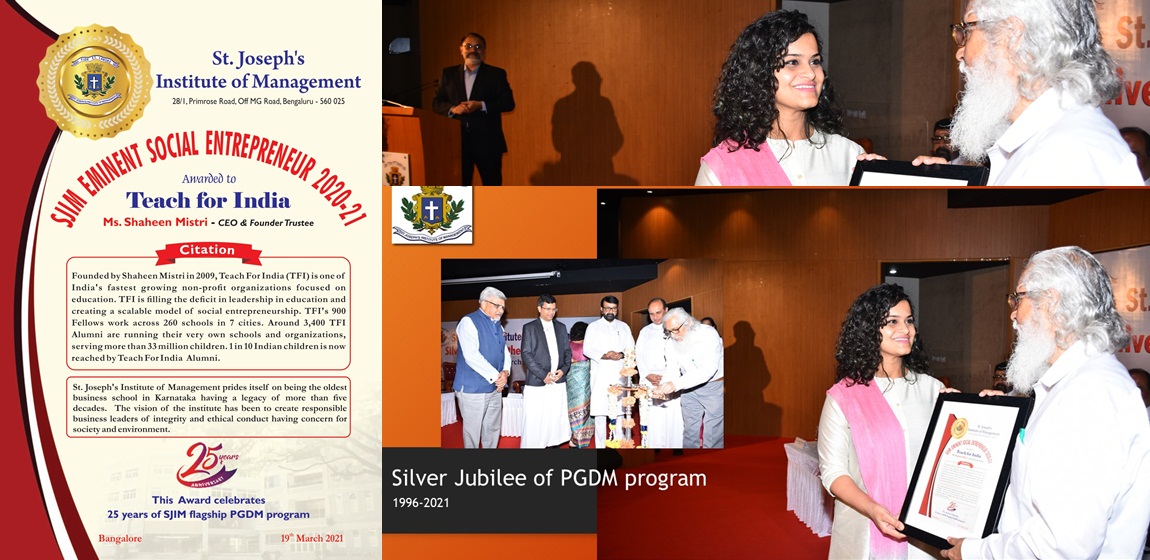 St. Joseph's "SJIM Eminent Social Entrepreneur of the Year" is awarded to Teach For India for the year 2020-21.

Education is one of the most important investments a country can make in its future. Founded by Shaheen Mistry, Teach For India (TFI), one of India's fastest growing NGOs, is focused on the greater cause of education and what it can do for the children of India and their future.

TFI has created a scalable model of social entrepreneurship where the most promising college graduates and working professionals are recruited as Fellows. Selected Fellows are placed for two years in full-time teaching positions in high-need government or low-income private schools. TFI's 900 Fellows work across 260 schools in 7 cities.

Fellowship graduates become the cohort in TFI's Alumni movement. Around 3,400 Alumni collectively fuel the larger movement and have been running their very own schools and organizations, training teachers, designing policy and continuing to serve within classrooms, non-profits, and corporate institutions, serving more than 33 million children. The TFI community has now founded more than 150 organizations.

Innovations by TFI include TFIx, a year-long incubation program for entrepreneurs who want to adopt Teach for India's Fellowship, Kids Education Revolution a collective of schools that are reimagining education, InnovatED a national incubator for entrepreneurs and Firki, India's first and only online teacher training portal.

TFI believes that an excellent education is a balance of academics and character development through strengthening values and mindsets. TFI students are able to independently demonstrate class values, both in and out of class, and are able to leverage opportunities in the community and world around them.

St. Joseph's Institute of Management (SJIM) encourages students to become men and women for others. The Jesuit model of education practiced at SJIM insists on academic excellence, critical thinking, creative research and overall personality development that includes character, moral courage to be free to make the right choices and commitment to the poor and marginalized. These principles are reflected in TFI's credo.